Mobile application development
Take your business mobile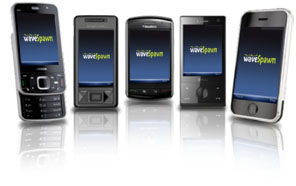 waveSpawn specializes in developing high quality mobile application solutions for iPhone, Android, iPad and other tablet devices.  We are Apple certified and have expert developers, designers, marketers, and partners to take your custom application from idea to marketplace.
Mobile applications are an exceptional marketing tool to enable you to stay connected with customers.  As more and more businesses strive to reach new audiences and improve customer service, mobile applications can help set you apart.  Consider some of the possibilities: customer loyalty programs, payment facilities, notifications of appointments, services, directions, etc. Applications can be developed to do just about anything.  We'll help you maximize the functionality and effectiveness of your app at the most reasonable rates. We'd be happy to share our knowledge and demonstrate examples.

Simply submit the brief form below, and we'll follow up to discuss your custom mobile application!