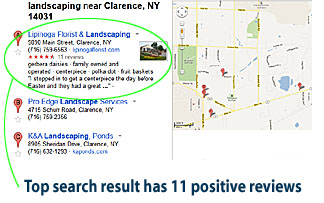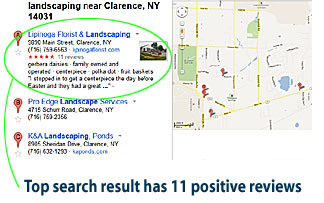 No matter what industry you are in or the size of your business, positive testimonials from your customers can dramatically improve your online visibility and brand.  Let's face it, people are conditioned to search for information on the Internet.  It's the norm to open a browser, pull up Google and begin researching for your desired product or service.  This could be anything – a local restaurant, the latest electronic gadget, a plumber, marketing firm, etc.
If the searcher is lucky enough to find your company, do you have enough information available to influence their decision?  This is where reviews could provide the determining factor.  All things being equal, if you have more favorable reviews in which customers are raving about your product or service, this may be enough for you to gain a new client.  Moreover, several positive reviews will likely improve your search ranking.  For example businesses on Google Places which have five star reviews are much more likely to be returned at the top of the list.  It's a double bonus!
Think about traveling to a new destination.  If you do a search for hotels and find very negative reviews of a particular place, would you stay there?  Probably not; common sense would say if 8 people have posted noise issues and unsanitary conditions, you'll probably look for another place.  Now let's say you're searching for "landscaping in Clarence, NY".  The same logic applies – you want confirmation that the service is reliable and trustworthy. That's why these positive online reviews are so important. As the thumbnail above illustrates, the top ranked search result has 11 positive reviews.
There are several sites which have user reviews and ratings to help consumers find local products and services: Google Places, Yelp, Angie's List, foursquare, etc.  All of these sites have different benefits and perks.  Small businesses in particular should be focused on understanding these review services and determining which could provide the most benefit to their business.  It will take some initiative, but being proactive and encouraging good customers to post reviews can really pay off.  You'll need to continually monitor your Google Places and other accounts to check for new reviews.
If you have any questions or thoughts on customer reviews, we'd love to hear from you.