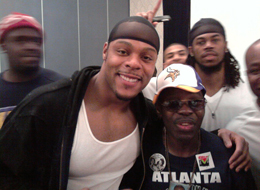 "Pants on the Ground" was an instant sensation when Larry Platt first sang his self-written song on American Idol.  It became so catchy that Brett Favre even sang a tribute version after the Minnesota Vikings beat the Dallas Cowboys.  That's some powerful viral marketing.  It's now crossed over from American Idol to the NFL.
According to NBC Sports, the Vikings loved the song so much that they flew Larry Platt along with them to their playoff game against the New Orleans Saints to perform for the team.
I'm sure round 2 of this song will be circulating soon. I have a feeling we'll be hearing a lot more from Mr. Platt.  Stay tuned…
.