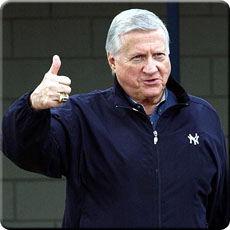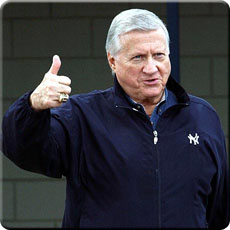 The passing of George Steinbrenner (The Boss) yesterday has been a sad occasion for many Yankee fans.  Over his 37 years as owner of the New York Yankees, Steinbrenner was able to transform the team from an $8 million MLB franchise in 1973 into a $1.6 billion empire.
The secret to his success is simple:  he was passionate and relentless in his quest to be the best.  He stayed true to that mission in everything he did.  "Winning is the most important thing in my life, after breathing," Steinbrenner was fond of saying. "Breathing first, winning next."  It was this motivation which helped the Yankees to win 7 World Series Championships during his tenure.
In 2001, fresh off four world championships in five years, Steinbrenner launched the Yankees Entertainment & Sports Network (YES Network).  This TV channel provides fans with exclusive telecasts of Yankee games and helps to reinforce the Yankee brand.  In 2009, George was instrumental in opening the new Yankee stadium complete with its own ballpark food business.  As a businessman, Steinbrenner was always seeking ways to expand the Yankees reach and appeal.  He was a perfectionist and everything he did supported his desire to win.
The New York Yankees franchise is one of the most recognizable teams in all of professional sports.  They are a marketing powerhouse.  Much of their modern-day success is due to the Boss.  While many people did not agree with Steinbrenner's harsh approach to business, the legacy he leaves behind is undeniable.  His simple strategy for success translates into any business – be passionate and relentless in your effort to be the best.
.