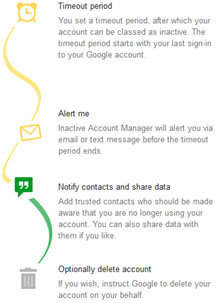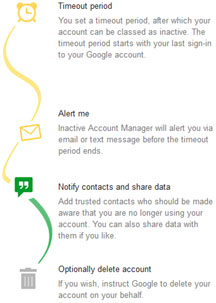 Ever wondered what happens with someone's email data, personal information, social media accounts and profiles after their death?
Google recently tackled the subject of the "digital afterlife" with the launch of a service that will allow users to designate how they want their accounts handled after they die.  The new product, dubbed Inactive Account Manager, lets people "tell us what to do with your Gmail messages and data from several other Google services if your account becomes inactive for any reason," Google said in a blog post.
"For example, you can choose to have your data deleted — after three, six, nine or 12 months of inactivity. Or you can select trusted contacts to receive data from some or all of the following services: +1s; Blogger; Contacts and Circles; Drive; Gmail; Google+ Profiles, Pages and Streams; Picasa Web Albums; Google Voice and YouTube. Before our systems take any action, we'll first warn you by sending a text message to your cell phone and email to the secondary address you've provided."
It's not the most pleasant topic to discuss, but it's helpful to know that you can take proactive steps to plan for your Google data to be transferred or purged after your death.  Other social networking sites like Facebook and Twitter have their own procedures for dealing with deceased users' data, some third-party services have also offered to fill that need. Online storage site SecureSafe, for one, allows users to assign certain files to beneficiaries.