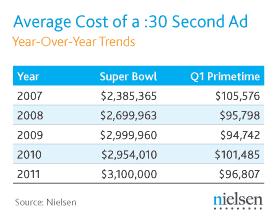 It's that time of year again – where advertisers can dip into their pockets to spend up as much as $4 million on a 30 second TV spot during Sunday's Super Bowl.  However, the average cost is only $3.5 million.  That's a rate of about $120,000 per second. Is this too much money to spend?  What is the threshold?
All things considered, this is the one opportunity each year to reach more than half the total US population.  Last year the "total number of viewers watching at least some part of the game also set a new record with 162.9 million" in the US.
So how do you accurately put a price tag on the massive audience at your fingertips?  Another way to analyze this is to say advertisers are only paying 21 cents per person to reach 162.9 million people (3.5/162.9).  For large car manufacturers, beverage and stack companies that seems like a small price to pay to introduce a new product and/or strengthen their brand.  Depending on the overall marketing objectives, 21 cents per head could be money well spent if executed flawlessly.
Typically we see humor injected into these Super Bowl ads.  In fact, a large percentage of people tend to watch the game for the commercials rather than the game itself.  A memorable Super Bowl ad can stand the test of time and dramatically increase a company's visibility and brand recognition.  In the past we have seen successful examples of small/startup companies which have hit it big with Super Bowl advertising results.  Companies like eTrade, GoDaddy, and Monster were all able to leverage success during Super Bowl ads to help catapult their businesses.
As always, it'll be entertaining to watch the commercials – even though many of therm are available online ahead of time.  Hopefully the game will be close and competitive as well… go Giants!