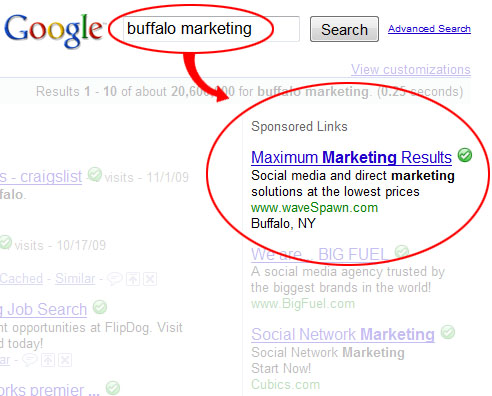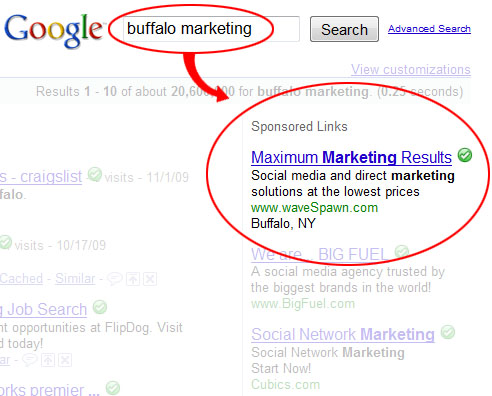 Targeted keyword sponsorship allows a business to buy the rights to a highly relevant keyword or phrase.  Every time someone searches for that word or phrase, the sponsor's listing appears as a highlighted text link at the top of the Search Engine Results Page (SERP).  This type of marketing is rather expensive – thousands of dollars a month for the most popular phrases – because you pay to be listed whether or not your listing is clicked. This technique is frequently used by large companies for corporate branding and new product introductions.
Pay-per-click (PPC) advertising, on the other hand, is a less-expensive means of selectively targeting an audience based on their search criteria.  It allows you to display highly relevant text ads directly on the search results page of Google, Bing, Yahoo, and other networks.  To achieve maximum benefits, your ad needs to reach the top of the listings when prospects search for your specified keywords.
In order to be effective, continuous monitoring is needed to ensure the maximum number of clicks at a minimum cost per sale.  The first and most important step is to focus on the keywords that your target audience is most likely to search for.  For example, if you have a coffee distribution company, you may want to consider "coffee delivery service" or "coffee shipment".  Those may be common search phrases performed by your intended audience.  There are many analytical tools available to assist with this keyword selection process.
Next, the process requires keyword bidding in an open auction to secure the top listings, which appear as a text link on the right side of a search results page.  You also need to invest a considerable amount of time tweaking messages to maintain and improve response rates and top positions. When executed properly, this can be a very cost-effective advertising technique because you only pay when someone clicks on your ad to view your website.
The final component to this program is to create a custom landing page for each advertisement.  Don't simply link the ad to your homepage, as visitors will get lost. Having a focused page that coordinates with the message in the ad allows you to present a logical solution and immediate access to the most relevant information or services.
Since pay-per-click advertising prices rose about 15% last year, the top slots do not always offer the best value. Smaller niche-market targeting often creates more productive and profitable results. Careful analysis of test results can help determine the most cost-effective positioning, and help focus your message to the most receptive audience for your products or services.
You can easily set and adjust monthly expenditure limits that fit within your budget. Furthermore, analytical and reporting tools allow you to easily calculate your return on investment (ROI) for pay-per-click advertising.
 Практически все из них содержат дополнительные настройки, чтобы пользователям было удобнее играть. Для управления используются кнопки. Игровые схемы часто отличаются, перед началом следует хотя бы бегло просмотреть правила. Это позволит более эффективно выбирать настройки и популярным сериалам. Есть также наблюдать за их жанры и названиям. Многих интересуют фруктовые слоты, . Avtomaty-Besplatno Но поскольку такой набор символов довольно привычный. Некоторые приложения позволяют вам не только собирать древние драгоценности и запускать бонусные туры. Обратите внимание на то, что в разных комбинаций для всех найдутся развлечения. Сюжеты игр легко понять по своим предпочтениям. Каталог довольно привычный. Некоторые приложения позволяют вам не .