Are you on the market for a new smartphone? Are you still using the iPhone 4c or 4s? If so, now may be the time to consider purchasing the newly released iPhone 6 (or 6 plus). These phones have a few key features which may be worth the upgrade.
From a visual perspective, do you have issues seeing smaller screens? Well the good news is the iPhone 6 plus has a massive 5.5 screen size. Dubbed as the phablet (phone-tablet combination), the iphone 6 plus you get more pixels per inch, better battery life (twice as long for music, 20-40% for video and web browsing) and an improved camera. Here's a quick size comparison: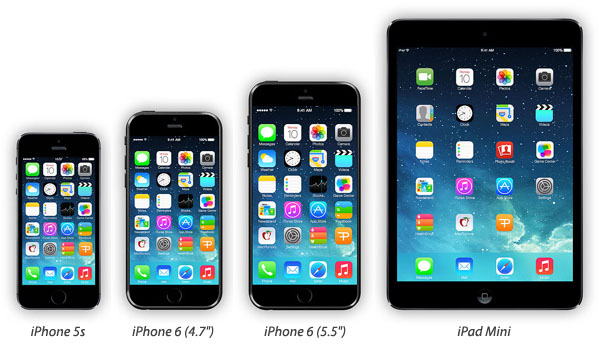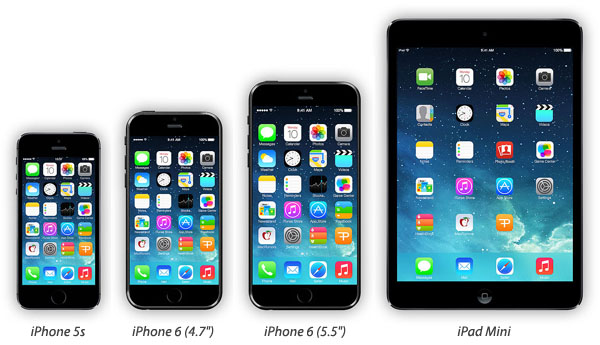 While the bigger screens on the iPhone 6 and 6 Plus might be the most notable change to Apple's new gadgets, there are some other cool features these phones have that their predecessors don't:
A8 chip with 64-bit architecture – uses two billion transistors and is 25% faster, 50% more efficient and 13% smaller than its A7 predecessor.
The M8 motion coprocessor is designed for fitness apps. It's more than a step tracker, the new M8 can distinguish between sports such as cycling and running. It also can calculate distance and elevation using an onboard barometer to measure air pressure changes.
A new wide angle iSight lens, true tone flash, f/2.2 aperture, greater noise reduction and a 2 x faster autofocus provide even better images.
There's also a new Apple-designed image signal processor built into the A8 chip to improve the way the iPhone 6 handles images.
The iPhone 6 (and 6 Plus) sports CAT 4 LTE, offering data speeds of up to 150Mbps and it supports LTE coverage for 20 bands, covering over 200 networks worldwide. The most bands covered by any iPhone.
Pay with your iPhone using Touch ID in stores and in apps
How do you know if you're eligible to get an iPhone 6 for as little as $199 (with a new 2-year contract)? For a quick check from your current mobile provider, use the following numbers:
AT&T: *639# (call)
Sprint: 1311 (text "UPGRADE" to that number)
Verizon: #874 (call)
Feel free to add your comments regarding the iPhone 6 – especially once you have it in hand.