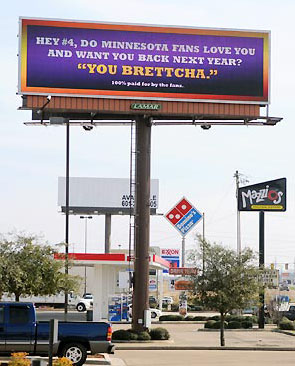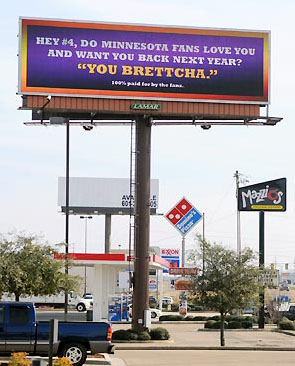 It'll be interesting to see if social media mixed with traditional outdoor billboard advertising can influence the career of Brett Favre.  There is a loyal and persistent group of fans on Facebook that are determined to bring Brett back to the Minnesota Vikings to play another year of football.  The Facebook group has grown to about 128,000 fans… just a little shy of their goal of 4 million fans.
This group has also created their own website.  They have raised enough funds to place a billboard in Brett's hometown of Hattiesburg, MS.  The sign reads "Hey No. 4, do Minnesota fans love you and want you back next year? You Brettcha!"
Let's see how Brett reacts to this… if we've learned anything, it's that Brett likes to change his mind.  I can't imagine he wants to retire on an interception throw to lose the playoff game to the New Orleans Saints.  After all they were poised to win that game – and perhaps the Super Bowl?
Can social media play a small part in Brett's decision to return to the NFL?  Perhaps the more important question is should he return?
.