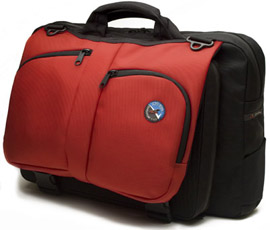 I thought this was an interesting article detailing how a small bag manufacture in Seattle – Tom Bihn – was able to leverage social media outlets to connect with fans and customers.
Darcy Gray is a VP at Tom Bihn.
Gray manages the Tom Bihn Facebook fan page, forums, blogs, Flickr and Twitter. She said updating them is a lot of fun and works on them whenever she checks her iPhone… She said engaging directly with customers began with the TomBihn.com forums.
"In 2006, it occurred to us that our customers and potential customers could get significant value from talking with each other as opposed to just with us. They could share their experiences of their Tom Bihn bags, offer advice for selecting the right bag to new customers, and post reviews/pictures of their experiences with their bags," she said.
She said the company's success on social media starts with their bags and that social media tools have given them more powerful ways to connect.
"Anytime a company is given more ways to directly communicate with customers, it's an opportunity for growth. Tom Bihn designs all of our bags himself. Interest in a particular type of bag might encourage him in a certain direction," Gray said.
By using a combination of blogging and interaction with their communities on YouTube, Facebook, Twitter, and Flickr, Tom Bihn has been able to build a sustainable business.
.